Established in 1979
Grasmick's U.S. Business Immigration News for Canadians 2000 Archives

Return to the top of this page
LAW OFFICE OF JOSEPH C. GRASMICK
Business Immigration

OLYMPIC TOWERS
300 PEARL STREET SUITE 200
BUFFALO, NY 14202 USA
TEL: 716.842.3100
FAX: 416.352.5115
jgrasmick@grasmick.com


Dear Readers:

This News contains developments too new to include in the Handbooks or FAQ (Frequently Asked Questions). Register above and you will have a virtual subscription to this newsletter.

Astute managers outhire the competition. To do this, they look beyond the border. The qualified candidate may not live in the U.S. Canada---with compatible education and business practice---is a productive source for hard-to-fill positions.

There is a wealth of special immigration opportunities for Canadians. This Web page looks at the dynamic nature of these opportunities. It also provides information to keep our clients continually informed.

Here are a few hints: 1) Register this page to take advantage of fleeting opportunities. Heed warnings before it's too late. 2) Also try the Forum. 3) If you can no longer find an article you saw earlier check our archives. Links to archives are on the Contents, above. You can also retrieve selected archived articles with the search engine.

We often include reader feedback---one of our best sources of news. When we include this information, we often change identifying facts for confidentiality.

Thank you for your visits!

LAW OFFICE OF JOSEPH C. GRASMICK



Joseph C. Grasmick

Return to the top of this page
(November 26, 2000)
For readers going home for the holidays, I hope your travels go well. Nevertheless, review your immigration status to assure smooth border crossings.
You may not be aware of changes that could affect your eligibility. Take a look at changes in
immigration rules,
your personal situation, and
your immigration status.
My clients often comment on the "fluid nature" of immigration rules. Returning systems analysts, for example, find that border inspectors can ask, "how much programming do you do?"---a question not asked at the first application. If the answer is more than "10-15%", the inspector can deny entry. (The next article describes a change in the immigration rules that can be particularly devastating to those holding diplomas earned outside the "NAFTA Zone".)
Your personal situation can affect immigration in unforeseen ways. Here is an example: I have received calls from TN and H-1B holders recently married to U.S. citizens. INS often imputes the U.S. citizen spouse's permanent U.S. residence, to the TN holder. Since TN holders cannot have the intent to reside in the U.S. permanently, there have been some border denials on this ground.
Changes in your immigration status can be particularly significant. INS may impute permanent intent to you, if you have filed a green card application. (See the FAQ question "7. Will my Green Card application cause trouble when I renew my TN?") Another common problem can occur to Canadians who may have filed a mail application to change or extend their immigration status. Examples include
TN extensions,
TN to H-1 status changes, and
changes from TD (TN family member) to F-1 student status.
INS will say you have "abandoned" your mail application by leaving the U.S. (Your employer's lawyer may be able to file the TN to H-1 application in a certain way, and avoid these negative consequences.)
I urge all TN applicants to read or re-read the TN Handbook. See if any changes in your life affect border crossings. Even if there are no changes, the Handbook may reveal latent weaknesses in your case which could surface at an unexpected moment. Canadians using other visas may consider a brief telephone consultation with me to update their knowledge base.

Return to the top of this page
(November 26, 2000)
The Immigration Service has determined that for purposes of TN border inspections, post-secondary diplomas or post-secondary certificates must be from Canada, Mexico or the United States. This affects readers who qualified for a TN category based on a post-secondary academic requirement. It is my opinion, and the opinion of other NAFTA immigration lawyers, that this interpretation is incorrect. Nevertheless, all inspectors have the memo containing this restriction. TN Handbook owners can review the actual text of the memo from the Handbook page ("INS Guidelines: July 2000.") Here is an excerpt:
For purposes of the NAFTA entry requirements, baccalaureate or licentiatura degrees issued by institutions outside of the NAFTA countries may be acceptable whereas post-secondary diplomas or post-secondary certificates must be issued in Canada, Mexico, or the United States.
Since Canada---like the U.S.---is a country with substantial recent immigration, many Canadians have earned education outside of the NAFTA zone. If this affects you, seriously review your eligibility before crossing the border or renewing your TN. Consider a switch to a TN category, which does not require academics. These categories are TN Management Consultant and TN Scientific Technician. An H-1B is another option. If you must renew under your present category, consider requesting an advance advisory opinion from the INS to challenge this position. The position of the Nebraska Service Center on this issue is not clear, but consider a mail application to that body as another option. (See FAQ question 6. Should I renew a TN at the border or by mail?)

Return to the top of this page
(November 26, 2000)
The same Guidelines discussed in the last article also contain good news. INS has finally declared that Software Engineers are Engineers. This is significant, not only for engineers, but for TN Scientific Technicians in the engineering field:
. . .all engineering specialties are included. Accordingly, an individual engaged in business activities as a "software engineer" at a professional level that requires a baccalaureate or licentiatura degree or state/provincial license may qualify under the profession of "engineer" under the NAFTA. . .The degree should be in the field or in a closely related field . . .it is reasonable to require the TN applicant to provide evidence of a degree in engineering just as it is reasonable to require an engineering degree for admission as a TN to perform professional level duties as a civil engineer.
Public perception lags behind these new rules. A common misconception is that computer engineers still do not qualify for NAFTA. I invite you to circulate this information to those who may benefit from the news. Use the convenient "Inform Others" button at the top of this page.

Return to the top of this page
(November 26, 2000)
I recently announced the availability of telephone consultations. (Ask For a Telephone Consultation With Joseph C. Grasmick, March 22, 2000.) I use amazon.com to automate and expedite the scheduling and billing formalities. Your response has been impressive. I have been able to help well over 100 people, with brief but important immigration questions.
This new system allows me to "unbundle" my services. (See Retain a Lawyer "By the Slice" June 9, 2000.) I can provide benefits to more people. I was surprised by the number of consultations from people already represented by another lawyer, requesting second opinions. These people become truly informed participants in the relationship with their retained lawyer. Another group is people proceeding without legal representation, who just have a "quick question". These questions are to choose the optimum visa or the best TN category. Other people use the consultation as a "tune-up"---a quick way to see how changes may affect their continuing eligibility to live and work in the U.S. Of course, the consultation also serves the traditional role of evaluating the feasiblity of full representation without immediately making the full commitment.

Return to the top of this page
(November 15, 2000)
There is normally a limit to the total time a person can remain on H-1 or L-1 status. However, there are important exceptions to this rule that can benefit people reaching their time limits. These exceptions have a disproportionate effect on Canadians.
There is no top chronological limit on the total amount of time you can have continuous L-1 or H-1 status if your work is seasonal, part-time or intermittent. Also the cap does not apply to people who are outside the U.S. for over six months per year or who are commuters.
These exceptions are important. Otherwise, those on H-1 or L-1 status are limited to a period of 5-7 years, depending on the category. After that time you will need to return to Canada for one year before starting a fresh L-1 or H-1 stint. (A new law makes further exceptions for some H-1's with delayed pending green card applications.)
These exceptions are often overlooked. They are particularly beneficial to Canadians, who are more likely to fall into one of these unusual cross-border travel patterns because of the proximity of Canada to the U.S.

Return to the top of this page
(November 15, 2000)
A belief, fueled by the media, is that INS approvals are no longer required for H-1 "transfers". This is not true. Although an H-1 can start work for the new employer as soon as the employer files the I-129 application, if INS subsequently denies your application, you must stop work immediately. The former employer may no longer have the original job open. You may then have to leave the country immediately. Even if the first employer would like to hire you again, the employer may have already asked INS to revoke the original petition. To complicate things, H-1 renewals may no longer be "high INS priority" since the employment start date does not depend on a quick adjudication. Processing times may actually increase. You may not find out about the denial for months.
There is a real danger. INS denies at least 10% of H-1 applications. These are not good odds. This 10% does not even count RFE's (INS requests for additional evidence) and withdrawals. As many TN's have discovered, prior approvals are irrelevant to the INS. Each application is judged on its own merits. (See Renewals Are Not Automatic, June 9, 2000.)
There are reasons a second H-1 may not be approved. Essential to the H-1 determination is an analysis of the prospective job. (Seethe H-1 page on this site.) While your credentials remain the same, the new job may not be an H-1 specialty occupation. Also, if your H-1 qualification is marginal another examiner could make a different determination on even similar facts. If INS made a mistake in approving your first H-1, they will not hesitate to deny the second. You may not even be aware that there was a weakness in your first application.
The message: if you start work prior to an H-1 approval make sure you will eventually get the approval. Your applications should be "bulletproof". Any readers considering pre-approval employment should schedule a telephone consultation with our office before giving notice or accepting new employment. During a consultation we can assess your chances on the second H-1 application. We can discuss the feasibility of a TN either as the sole permit you will use or as a fallback should the H-1 be denied.
Here is a summary of the new H-1 rules. Section 105 of the new immigration law increases the "portability" of H-1B status. It does this by allowing an individual previously granted H-1 status to accept new employment upon filing a new petition by the new prospective H-1B employer. The parties do not have to wait for the actual approval. The employee must be in lawful status at the time of filing and must not have been engaged in unauthorized employment since entry into the U.S. If the new petition is denied, the individual's employment authorization will terminate. With these limitations, "portability" may be a misleading label.
Congress designed this section to help with problems faced by H-1B employees and employers as a result of INS delays. This section is retroactive. It could potentially result in reinstatement to H-1B status for people whose petitions were denied on the basis of premature unauthorized employment with a new employer.

Return to the top of this page
(November 15, 2000)
After you conquer the immigration rules for the construction industry, make sure your successful construction bid is not subject to a protest by an American contractor. Using Washington state as an example, American contractors (or a U.S.-licensed foreign competitor) disgruntled by a low bid award to a foreign contractor may use the Washington Contractor Registration statutes to file bid protests against successful foreign bidders. Insure your successful construction bid by securing proper corporate and contractor licensing. Compliance with the applicable statutes may prevent your worst nightmare.
Here are highlights of the Washington rules:
(RCW 18.27.010)-Definitions…(1) "Contractor" means any…firm, or corporation who…undertakes to, or offers to undertake, or submits a bid to…construct…for another, any building…structure…or improvement…or to do any part thereof…" "Contractor" includes any person, firm or corporation covered by this subsection…" (RCW 18.27.005)-Strict Enforcement: "This chapter shall be strictly enforced…anyone engaged in the activities of a contractor is presumed to know the requirements of this chapter." (RCW 18.27.020)-Prohibited Acts-Criminal Penalty: "(2) It is a misdemeanor for any contractor to: (a)…offer to do work, (or) submit a bid…as a contractor without being registered as required by this chapter…" (RCW 23B.15.010)-Authority to Transact Business Required. "…a foreign corporation may not transact business in this state until it obtain a certificate of authority…" *RCW 23B.15.020-Consequences of Transacting Business Without Authority. "…a foreign corporation transacting business in this state without a certificate of authority may not maintain a proceeding in any court in this state…
(Courtesy of Gene R. Moses (http://www.genemoses.net) as reported in the Border Hot List!. Subscribe to the Border Hot List! by sending a BLANK e-mail to borders-subscribe@topica.com .)

Return to the top of this page
(November 15, 2000)
The three NAFTA governments have agreed to put Actuary and Plant Pathologist on the TN List. The INS promises new regulation changes to implement these changes "soon". The regulations will also state the requirements to qualify for a TN under these new professions.
We asked a high-level INS official why additions to the TN list are so slow and modest. The reply: "It is a rocky road for new professions. All three countries must agree and the bachelor's degree must be a clear prerequisite for entry into that particular profession."
There are many other professions that would be appropriate for inclusion in NAFTA. The TN Handbook has a "wish list" of such potential jobs, which you and your professional organization can use in advocacy efforts. If you are a Handbook owner, register on the Handbook page to be notified of future developments.

Return to the top of this page
(November 15, 2000)
Readers advise me that two ports have denied TN applications where systems analysts had one-year "accelerated" Ontario diplomas. This happened even though the diploma is equivalent to the required two-year program in total coursework hours. The inspectors believed that INS in the past wrongly awarded TN visas bases on such diplomas. Apparently, the interpretation was that a two-year diploma requires two years actual chronological duration of study -- one year of accelerated studies equivalent to two years is not good enough. (The applicants had letters from the college confirming the equivalency, but did not have proper U.S. credentials evaluations.)
I believe this is an incorrect interpretation. Nevertheless, the problem is spreading like a virus throughout the ports. Until things stabilize, if you are taking advantage of an accelerated program to meet the requirements, make sure your port is not participating in this philosophy. This is true even if you have been on the TN for many years and are only "renewing" it. (See Renewals Are Not Automatic, June 9, 2000.) If you must use an affected port, consider downloading the TN Handbook to see if you can use a TN category that does not require academics.
Incidently, we are making efforts to make NAFTA border decisions consistent. At the Northern border, American Immigration Lawyer Association (AILA) members and their clients have reported to INS erratic and erroneous denials of entry. These denials happened to TN professionals, B-1 business visitors, and L-1 NAFTA applicants. Business and other leaders discussed these problems at a "pre-meeting" in Seattle to set an agenda for the upcoming cross-border talks between Canadian and U.S. officials under the Canada-U.S. Protocol (CUSP).
Due to these border problems, along with rejections of Japanese B-1 visitors at the Portland, Oregon airport, Senator Slade Gorton (R-WA) has set up meetings with INS and business officials.
AILA is continuing its liaison efforts with INS Enforcement officials to urge better training and consistency of decisions. In addition, AILA is working with interested Congressional offices to highlight the importance of these issues to cross-border trade, travel, tourism and relations.

Return to the top of this page
(June 9, 2000)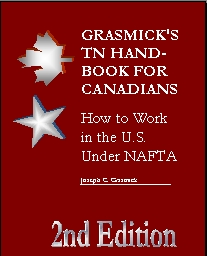 I am pleased to report that the TN Handbook is in circulation. Immediately after release, the Handbook earned the #1 spot on the Mightywords best-seller list. Mightywords is the leading e-book distributor.
I wrote the Handbook to fill a gap: the gap between this website and full legal representation. Those who choose to proceed without legal representation can have rich information on the subject. I also find that my clients who own the book are very well-informed. This book should be on the hard drive of all employers who use TN rules for Canadian employees.
I selected the e-book format to eliminate delay between manuscript and publication. Even so, there are already updates. Handbook readers should register to receive automatic notification when I post supplements.

Return to the top of this page
(June 9, 2000)
A reminder: TN renewals are not automatic. INS often denies them. I am receiving frequent calls from people who receive denials -- even after having a TN for years. These denials are a special nuisance once you have established roots in the U.S. If you are an employer, the employee's unforseen absence can devastate your business.
Recent phone calls from people with problems reveal the misconception that renewal applications can be "abbreviated". This is not true. INS reviews every TN renewal all over again. This is the case in both mail and port of entry applications.
The TN Handbook ("How Serious is the INS About the Requirements?", Chapter 1), shows how INS checks to see if you or your employee meet the requirements at each appearance. This check could be unexpected and informal -- like at a port of entry, while using a valid multiple entry I-94.
This check is especially consequential at renewal time. During renewal procedures, INS has a formal opportunity and obligation to review your paperwork again.
INS will be checking to see if
any changes in law and practice now make you ineligible,
any changes in your employment make you ineligible, and
you have new updated documents showing that your eligibility will continue for another year.
Do not be lulled into complacency. Your renewal application should be at least as complete as your original application. Your should present all of the paperwork you presented in your original application (See Handbook "Checklist," Chapter 9). Update some of the documents, and add relevant materials from the Checklist. This is also a good time to check to see if there have been any changes in the law or border practice that requires your attention.
The Handbook has two large checklists: one for the original TN, and another for the renewal. The renewal should have the items on the renewal checklist, and most of the items on the original TN checklist.
If the original application was weak, this can surface at renewal time. Also, policies change without notice. INS will review the renewal under new rules. For example, many eastern ports are now implementing a new 2- or 3- year top cap on TN management consultants. (See Management Consultant 2-yr. Limit April 24, 2000.) Another example has surfaced in the west. At those ports, INS denies some systems analysts for "doing too much programming."

Return to the top of this page
(June 9, 2000)
Will the renewals, discussed above, eventually become easier?
A recent AILA-Nebraska Service Center (NSC) teleconference indicates a more reasonable approach at that center:
AILA QUESTION: Members report receiving RFEs ("Returns for Evidence, or "kickbacks") on TN extensions that ask for verification that the person is a professional. If the Service (in the form of the Free Trade Officer at the POE) has already determined that the foreign national meets the TN occupational criteria, should not this prior Service determination be honored by the NSC in adjudicating an extension where the foreign national and the job in the U.S. have not changed? Aren't you using scarce resources in a less than effective manner when you issue RFEs in cases like this?
NSC ANSWER: The NSC agrees that using resources to question jobs that appear to fit within the TN category is not particularly useful. The NSC believes that practitioners should see fewer of these kinds of RFEs in the future.
(Courtesy of AILA and Gregory Adams.)

Return to the top of this page
(June 9, 2000)
The American Immigration Lawyers Association has a new "Immigration Lawyer Referral Service." Although I do not participate in this service, it may help some readers. Here is the information, per AILA:
The lawyers participating in the referral service are members of AILA who:

Are licensed to practice law in a state or territory of the United States and are currently a member in good standing of a State Bar Association

You will be charged no more than $50 for an initial in-person, one-half-hour consultation.

How the referral service works: you call 1-800-954-0254. Or, you may send an email to ilrs@aila.org. Please be sure to provide your name, location and what your need for an immigration lawyer is.

If you are calling, when the service representative answers your call you will be asked for the following:

Your name
The city and state within which you reside
Your phone number
What your specific needs are (e.g.., a lawyer specializing in asylum)

The service representative will then look for a lawyer in your geographic area that specializes in your area of need.

You will be provided with the name, phone number and location of the lawyer.
You will be given the name of one lawyer.
If you contact that lawyer and s/he is unable to help you, you may call back and be referred to another lawyer.

After giving you the referral, the service representative will be contacting the lawyer that was referred to notify him or her that a referral has been made. The service representative will provide the lawyer with your first and last name, the city and state within which you reside, and your issue. No other information will be given.

Please note: AILA's Immigration Lawyer Referral Service does not provide legal advice. The service will refer you to a lawyer in your geographic area specializing in your area of need.

Return to the top of this page
(June 9, 2000)
The new economy encourages lawyers to "unbundle" their services. Clients only want services that add precise value, in accordance with needs and budgets.
Dismembering a legal product is tricky. Often, only hindsight reveals the right decision. This table may help. It shows the advantages of the different services I offer:
Many readers use 2 or more services, to acquire the right mix of knowledge.
Also see the FAQ question "Do I Need a Lawyer", to help you decide. For the general perils of self-representation, see the article in the June 12, 2000 issue of Time Magazine, "Who Needs Lawyers?".

Return to the top of this page
(June 9, 2000)
We have been watching the infamous "section 110" debate in this newsletter, since 1996. (See the last update, Section 110 Update March 23, 2000.) I am pleased to report that an agreement between the House and the Senate effectively revokes Section 110 of the 1996 immigration law.
Section 110 would have required the Immigration and Naturalization Service to record the arrival and departure of every non U.S. citizen at every port of entry. Under the agreement crafted by Senator Spencer Abraham (R-MI) and Representatives Lamar Smith (R-TX) and Fred Upton (R-MI), Section 110 will be replaced with a new law. That law will require that the INS integrate existing data collected by INS, Customs Service and the Border Patrol at our ports-of-entry. This would allow those agencies to focus their attentions on the potential problems – smugglers, drugs and illegal entrants, so as to free resources to facilitate the entry of legitimate visitors and travelers.
Here is AILA's reaction to the news:
Senator Abraham and Representative Smith deserve our thanks. They negotiated an agreement that will help the INS, border enforcement, businesses and tourists seeking to enter this country for legitimate reasons. This agreement reflects AILA's long-stated opinion that the original entry-exit controls enacted in 1996 were unworkable and had the potential to grind all border crossings to a halt," said Jeanne Butterfield, AILA's Executive Director.
AILA and its members have been working to repeal this requirement since shortly after its enactment in 1996. Along with Canadian interest groups, they were the first to recognize its potential impact.

Return to the top of this page
(April 24, 2000)
Canadian B visitors can receive honorarium payments. They can also receive associated incidental expenses. They do not need work permits for this.
A recent INS memorandum indicates that these payments must be for a usual academic activity. The activity cannot last longer than 9 days per single institution of higher education. The activity can also be for related or affiliated nonprofit entities, nonprofit research institutions or governmental research institutions.
The Canadian may not accept such payments from more than 5 institutions in a 6-month period.

Return to the top of this page
(April 24, 2000)
Does taking a maternity leave, violate TN status?
My opinion is that it does not. As a general rule, a TN must continue to work for the U.S. entity indicated on the back of the Form I-94. When the work stops, INS may require the Canadian to leave the country within 10 days. That is because the Canadian is "no longer maintaining status".
Fortunately, recent INS advisory opinions support those on maternity leave. Although these opinions relate only to H-1 questions, I see no reason why they should not also cover TNs.
The first advisory opinion states that a pregnant H-1B beneficiary on maternity leave -- but still retained as an employee-- would be lawfully maintaining H-1B status.
What if the employee would like to take some extra time off? A second opinion states that "a pregnant woman who has taken leave under the Family and Medical Leave Act" who "wants to take an additional few months off from work" is OK. In this case "an identifiable tie between the employer and the employee" must continue throughout the leave.

Return to the top of this page
(April 24, 2000)
The INS is increasingly reluctant to renew TN management consultant status after two years.
This policy first surfaced in some of the western ports of entry. I have learned that the policy has now spread to ports under the Buffalo NY, INS jurisdiction. This jurisdiction includes land crossings in upstate NY. It also encompasses INS preclearance facilities at the Toronto and Montreal airports.
The rationale for this restrictive policy is that management consultants should normally serve only the temporary and "supernumerary" needs of employing companies. (Note that there is generally no top limit on the total number of years a TN can work in the U.S.)
I believe that all ports will make exceptions for management consultants who take on multiple, separate contracts. In these cases the consultant is still serving a series of temporary, sequential needs even while using the TN for many years.

Return to the top of this page
(April 24, 2000)
What effect does a DUI (Driving Under the Influence) conviction have on U.S. travel?
DUI convictions rarely bar a Canadian from freely traveling to the U.S. Nevertheless, a new case involving an Arizona DUI conviction shows there are important exceptions.
This is an important question. DUI convictions are the most frequent violation facing Canadians who wish to come to the U.S. (At least amongst the Canadians who call my office.)
For a conviction to cause problems it must be one of "moral turpitude." Moral turpitude is not easy to define. The formal definition is not helpful: "base, vile, or depraved" conduct "contrary to the accepted rules of morality and the duties owed between persons or to society in general."
Many cases hold that DUI is ordinarily a regulatory offense not involving "moral turpitude". Sometimes though, there are aggravating circumstances that cause serious problems.
In this recent case, the Board of Immigration appeals barred a person from the U.S. after an aggravated DUI. This conviction involved special factors: committing a DUI offense while knowingly driving on a restricted license owing to a prior DUI.
For general information about border exclusions see FAQ: Stopped at the Border

Return to the top of this page
(April 24, 2000)
Canadians often have problems getting mortgages for a home in the U.S. I have asked David Weinberg, a mortgage broker, to provide information on how he handles these mortgage applications:
United States Mortgage Programs for Non-U.S. Citizens
Typically, Canadian and other non-U.S. Citizens working in the United States, especially on TN Visas, have found it difficult to arrange mortgage loans on favorable terms. I have studied, interviewed and worked with many lending institutions for this type of product. I understand what information is required and how to package the loans for optimal treatment.
Mortgage loan guidelines can be tricky and the requirements can vary from state to state. I have worked "hands-on" with Canadians to insure that the credit, income and other various qualifying items are documented correctly to secure the most favorable loan approval.
As a basic rule, lenders will only lend on owner-occupied single-family homes or condominiums. Multi-unit building loans, investment property loans, and vacation home loans are available, but with restricted guidelines. Business Immigration News readers should feel free to call me for specific criteria.
Conventional mortgages, loans under $252,700, are available with a 5% down payment. The borrower must be able to document two (2) years of residency, employment, credit and assets in the U.S.
The 5% down payment program is also available to borrowers being relocated by an U.S. Corporation. The relocation package must be documented on company letterhead. Borrowers need to prove two (2) years of residency, income, credit, and asset history either in or out of the U.S.
The standard program for loans under $252,700 requires a minimum 10% down payment. Residency, income, credit, and assets can be a combination of in and out of the U.S.
The jumbo program, loans over $252,700, requires a minimum of a 10% down payment. To qualify, the borrower must prove two (2) years of residency, credit, income and assets in the U.S. Borrowers who are unable to prove the 2 years in the U.S. will need a 20% down payment.
As a general rule for jumbo loans, the larger the loan, the larger the down payment. For instance, the maximum loan with 10% down is $400,000; a $1,000,000 loan requires 25% down.
Interest rates and loan fees vary by product, but are generally competitive with those for our normal progams for U.S. Citizens.
This information courtesy of:
David Weinberg
Prism Mortgage Company
www.davidweinberg.prismmortgage.com
david_weinberg@prismmortgage.com
847-509-4700, Ext. 63

Return to the top of this page

(March 23, 2000)

Congress and the administration are expecting to put together within days a deal that would end the threat of massive border delays at the already jammed Canada-U.S. border, say U.S. Congressional and industry sources. A deal being negotiated in Congress would lift a March 2001, deadline for implementing the Section 110 border entry system. The deal proposed calls for replacing Section 110 with another system to be approved by Congress, the sources said yesterday. This is reported in today's Financial Post (Canada), March 23, 2000

Greg Boos, a Bellingham Washington-based immigration lawyer, provides these details:
Following tense and inconclusive House and the Senate negotiations regarding the repeal of Section 110, Chairman Lamar Smith and the members of the Americans for Better Borders (ABB) coalition have entered into discussions regarding a possibility of a compromise. Items under discussion with Smith include: a series of studies of various border issues that would make recommendations as to how the borders could work better, removal of any mandatory implementation deadline for an entry-exit system until such studies are completed, and the requirement that Congress vote on such a system before it can be instituted. As of the date of this writing, ABB and Representative Smith's representatives have met on several occasions with more negotiation sessions scheduled.
In the meantime, H.R. 1650, the Border Improvement and Security Act, introduced by Representatives Fred Upton (R-MI), John LaFalce (D-NY), and Henry Bonilla (R-TX), now has 128 co-sponsors, a number which continues to put pressure on Chairman Smith and the House leadership to address Section 110 this session. H.R. 1650 will repeal Section 110 if allowed to proceed to the House floor for a vote.

You can support efforts to resolve the Section 110 problem by keeping the pressure on Representative Smith. Call Speaker of the House Dennis Hastert and Majority Whip Tom Delay in support of H.R. 1650. Hastert and Delay can be reached through the House switchboard – (202) 224-3121. Once you have made your calls, recruit three friends to make similar calls to Speaker Hastert and Majority Whip Delay.
(From the 23 Mar 2000 Border Hot List!, courtesy of Chang & Boos), subscription available through Greg Boos [gboos@americanlaw.com] .

Return to the top of this page
(March 22, 2000)
Many readers ask me, "What will happen to my H-1 application now that the quota has been reached?"
Here is the text of yesterday's INS notice that may help you:
DEPARTMENT OF JUSTICE, Immigration and Naturalization Service, [INS 2049-00], Information Regarding the H-1B Numerical Limitation for Fiscal Year 2000
SUMMARY: This notice explains how the Immigration and Naturalization Service (the Service/INS) will process H-1B petitions for new employment for the remainder of this fiscal year now that it is clear that the demand for H-1B workers will exceed the statutory numerical limit (the cap) of 115,000 H-1B petitions for Fiscal Year 2000. This notice is published so that the public will understand the Service's procedure for processing H-1B petitions, as the procedure may affect the business decisions of some prospective H-1B petitioners. These procedures are intended to minimize the confusion and burden to employers who use the H-1B program, reduce the administrative burden at the Service Centers, and eliminate the need for employers to inquire about the status of pending H-1B petitions.
This notice also serves to inform the public that the Commissioner of the INS is exercising her authority under 8 CFR 214.2(f)(5)(vi) and (j)(1)(vi) for this fiscal year to extend the duration of stay for certain F and J nonimmigrants (students and exchange visitors) if their employer has filed a timely request for change of nonimmigrant status to that of an H-1B nonimmigrant alien and the petition was filed before October 1, 2000. This measure will prevent a lapse of status for these aliens before the Service is able to act on petitions to change their status.
. . .
What is an H-1B nonimmigrant?
An H-1B nonimmigrant is an alien employed in a specialty occupation or as a fashion model of distinguished merit and ability. A specialty occupation is an occupation that requires theoretical and practical application of a body of specialized knowledge and attainment of a bachelor's or higher degree in the specific specialty as a minimum for admission into the United States.
What is the cap or numerical limitation on the H-1B nonimmigrant classification?
Section 214(g) of the Immigration and Nationality Act (the Act) provides that the total number of aliens who may be issued H-1B visas or otherwise granted H-1B status during Fiscal Year 2000 may not exceed 115,000. As of February 29, 2000, the Service has recorded 74,300 petitions against the cap for Fiscal Year 2000. As of February 29, 2000, there are more than 45,000 H-1B cap petitions pending at the four Service Centers. Since on average the Service approved 90 percent (90%) of the H-1B petitions it receives, there now appears to be a sufficient number of H-1B petitions pending at the four Service Centers to reach the cap for this fiscal year. Therefore, as of [Date of publication in the Federal Register], the Service will reject any petitions requesting a start date prior to October 1, 2000.
What is the effect of this action?
This notice explains the Service's procedure for processing H-1B petitions for new employment that are filed by employers seeking to employ H-1B aliens during the remainder of this fiscal year, i.e., through September 30, 2000. The process described in this notice is similar to the process the Service used in the fiscal Year 1999 for handling H-1B petitions after the cap had been reached. The Service also published a proposed regulation at 64 FR 32149 on June 15, 1999, that described the method that it would use in handling H-1B petitions in subsequent fiscal years. This notice contains the same language as in the proposed rule.
Does this procedure apply to all H-1B petitions filed for this fiscal year?
No. The procedure described in this notice relates only to H-1B petitions filed for new employment to commence on or before September 30, 2000. A petition for new employment includes a petition where the alien beneficiary is outside the United States when the H-1B petition is approved or where the alien is already in the United States and is seeking a change of nonimmigrant status to an H-1B nonimmigrant alien.
Amended petitions and petitions for extension of stay are not affected by this procedure because these petitions do not count against the cap. Likewise, petitions for aliens in the United States who already hold H-1B status, i.e., petitions filed on behalf of an H-1B alien by a new or additional employer, are not affected by this procedure. This procedure does not relate to petitions filed before October 1,2000, for employment to commence on or after October 1, 2000.
What is the Service's procedure for processing H-1B petitions for new employment during the remainder of this fiscal year?
This notice inform the public that there are a sufficient number of H-1B petitions pending at the four Service Centers to reach the cap of 115,000 for this fiscal year. The Service will not accept for adjudication any H-1B petition for new employment containing a request for a work start date prior to October 1, 2000. These petitions will be rejected and returned (along with the filing fee) to the petitioner according to 8 CFR 214.2(h)(8)(ii)(E). However, such petitioners are free to refile those petitions with a new starting date of October 1, 2000, or later.
The Service will not reject a pending petition when the Fiscal Year 2000 allotment of 115,000 H-1B numbers has been exhausted. Just as in Fiscal Year 1999, the Service will proceed to adjudicate the petition based on a presumption that the employer will accept October 1, 2000, as the date from which the approved petition is valid and the first date on which the alien beneficiary may begin employment as an H-1B worker.
It must be noted that the Service received favorable comments from the public on this procedure when it was first implemented in Fiscal Year 1999. In view of these favorable comments, the Service will continue to use the same process this fiscal year.
Each Service Center will coordinate their adjudication of pending H-1B petitions to ensure that all petitions will be processed in order of receipt by the Service Center irrespective of the place of filing. The Service is currently adjudicating H-1B petitions which were filed as late as January 20, 2000. Thereafter ``pipeline'' cases (petitions filed prior to the date the cap was reached) will be adjudicated in the order of receipt, but will be assigned a work start date of October 1 of the new fiscal year or later.
What should a petitioner do if the October 1 start date for employment is not acceptable?
If a petitioner wishes to withdraw a pending H-1B petition or an approved H-1B petition for new employment, the petitioner should fax a withdrawal request to the Immigration and Naturalization Service, Immigration Services Division, H-1B Withdrawal Section, Washington, DC, fax number: 202-514-2093. The request should be signed by the petitioner or authorized representative and include the filing receipt number and the names of both the petitioner and beneficiary. Employers seeking to request withdrawal of an H-1B petition should use this fax number and special procedure.
Does this process apply to H-1B petitions filed for employment to commence on or after October 1, 2000?
No. Those petitioners are not affected by the procedures described in this in this notice and will be adjudicated in the normal fashion, regardless of whether they are pending as of the date of this notice or filed after this year's cap is reached.
How will the Service process petitions that are revoked?
The Service will subtract revocations of any H-1B petitions for new employment from the total H-1B count in the fiscal year for which the new employment was approved. After the petition is revoked, the case number will be sent to the Immigration Services Division (ISD) where the number will be recaptured for use. The number will then be forwarded by ISD to a Service Center to be assigned to a pending petition. Priority will be given to approved petitions in the order they were received (e.g., petitions that were originally denied but subsequently ordered approved by the Administrative Appeals Office).
Will the Service refund a filing fee if a petition is withdrawn or revoked?
No, the Service will not refund either the $110 filing fee or the additional $500 filing fee imposed by the American Competitiveness and Workforce Improvement Act of 1998 when a petition is revoked. The provisions contained in 8 CFR 103.2(a)(1) preclude the refunding of filing fees on I-129 petitions in this situation. The Service will refund a filing fee only if the filing of the petition was a result of Service error.
Will the Service allow certain F and J nonimmigrant aliens who are the beneficiaries of H-1B petitions to remain in the United States until they can change their status to H-1B on or after October 1, 2000?
Yes. The Service published an interim rule in the Federal Register of June 15, 1999, at 64 FR 32146 that amended its regulations to expand the definition of duration of status for certain F and J nonimmigrant aliens whose employer has filed a timely H-1B petition and application for change of nonimmigrant classification.
The interim rule provided that the Commissioner may extend the duration of status, by notice in the Federal Register, of any F or J nonimmigrant alien whose employer has filed a timely petition for change of nonimmigrant status to that of an H-1B nonimmigrant as described in 8 CFR part 248, provided the alien has not violated the terms of his or her admission to the United States, at any time the Commissioner determines that the H-1B cap will be reached prior to the end of the fiscal year. This extension shall continue for such time as is necessary for the Service to approve a petition changing the alien's status to H-1B in the following fiscal year. An alien whose duration of status has been extended by the Commissioner under these regulations (and who continues to adhere to the other terms of the alien's F and J status) is considered to be maintaining lawful nonimmigrant status for all purposes under the Act.
When will the Commissioner exercise her authority to extend duration of status for this fiscal year?
This notice informs the public that the Commissioner has exercised her discretionary authority under 8 CFR 214.2(f)(5)(vi) and 8 CFR (j)(1)(vi) for this fiscal year. Accordingly, any F or J nonimmigrant whose employer has filed a timely request for change of nonimmigrant status to that of an H-1B nonimmigrant alien whose petition was filed or will be filed before October 1, 2000, is considered to be in a valid nonimmigrant status until October 1, 2000, or until the date the Service adjudicates the change of status application. Pursuant to 8 CFR 248.1(b) and 214.1(c)(4), the term ``timely filed'' refers to an application for a change of nonimmigrant status filed prior to the expiration of the alien's period of authorized stay in the United States. This provision also applies to the dependents of the affected F and J nonimmigrant aliens. An alien affected by this provision may not work for the petitioning employer or otherwise engage in activities inconsistent with the terms and conditions of the alien's nonimmigrant classification prior to the date for which the Service approves the request for a change of status.
May an F or J nonimmigrant whose stay is extended under this provision accept a hiring bonus before October 1, 2000?
Yes. An F-1 or J-1 nonimmigrant alien may receive a signing bonus before the validity date of the H-1B petition. A signing bonus does not represent a salary or a reimbursement for services rendered and, as a result, may be accepted by the alien.
Does the Fiscal Year 2000 cap include the cases that the Service approved in excess of the cap in Fiscal Year 1999?
No. Any cases that the Service may have approved in excess of the Fiscal Year 1999 cap were not counted against the Fiscal Year 2000 cap. While the numerical cap for the H-1B visa category was exceeded in Fiscal Year 1999, the Service has not yet conclusively determined the exact amount of that discrepancy. The Service will publish a future notice in the Federal Register addressing how these cases will be treated once the exact amount of the H-1B discrepancy in Fiscal Year 1999 has been determined.

. . .

Return to the top of this page
Work experience cannot substitute for missing TN academic requirements. Nevertheless, this experience may serve another purpose: it may "professionalize" TN-required work experience you earned before you finished college.
Horse before the cart: Donald N. Burgess is now looking to work in the US, as a systems analyst. He currently has a 2-year diploma and 1.5 years post-graduate experience. He needs 3 years' work experience to qualify for the TN System Analyst category. He asked me if there is any way he can use extensive computer-related work done before graduation towards the missing 1.5 years required for the TN?
I advised Donald that there is no written requirement that the experience come after the work. On the other hand, INS may ask him "How can you have had three years experience as a professional systems analyst, when one normally first becomes a professional systems analyst through education?
Here is how I advised Donald:
We should show how your pre-college employment experience is at a high level equivalent to that of an employed professional in the category. We must convince immigration this is true regardless of not having the diploma before employment.
Where there is no law, lawyers look at analogies. The analogy I like is the H-1 rules about how employment experience can be equivalent to college coursework. If an H-1 applicant does not have a university degree, experience equivalent to the degree can substitute. This is on a 3:1 basis -- three years of employment experience can substitute for each missing year of academics
Here is one way to make the examiner believe in your pre-academic experience. You should have more experience then the minimum requirement. This gives you some time to build up your professional standing before the required minimum employment. For example, a systems analyst with 9 years pre-degree experience could argue that the first 6 years provided training as well as would a two- year diploma. Therefore, the last three of the nine years was experience as a true systems analyst. The subsequent diploma was to further specialize and build on your already established professional standing.
Again, this strategy is just a way to make earlier employment experience look good. Do not confuse "legitimizing pre-academic employment experience" with "substituting for a degree requirement". TNs cannot use employment experience to substitute for the education. You still need any required diplomas.
(This information is an excerpt from the TN Handbook.)

Return to the top of this page

(March 22, 2000)

"Can I Work in the Virgin Islands, Puerto Rico, Samoa . . .?"

You cannot use a TN I-94 to travel to or work in:
Guam,
Commonwealth of the Northern Mariana Islands,
American Samoa,
U.S. Virgin Islands.
You can use a TN I-94 to travel to or work in:
District of Columbia,
and the Commonwealth of Puerto Rico.
You can still travel as a temporary visitor per the usual rules to the first four areas.

Return to the top of this page
(March 22, 2000 -- This is the first article posted in 2000.)
I am pleased to announce a new service: a quick way to set up a telephone consultation with Joseph C. Grasmick. You can immediately set up a consultation in 1/2 hour increments via Amazon.com. Once you purchase the consultation, I will personally send you an e-mail to find out when you are available.
This service bypasses the inefficiencies and delays of traditional payment methods. It taps into 24 hour e-mail communications. We can avoid telephone tag. The time savings allow me to dedicate my time to your consultation. To accomplish this, I only accept Amazon payments.
This brief telephone consultation can answer those "few remaining questions" you may have after visiting my Web site. If you feel you need more information, order two duplicate 1/2 hour consultations. Neither option allows enough time to establish an attorney-client relationship. If you feel you need full legal representation now or later, see information concerning legal fees. If you contemplate this representation, review the required characteristics of my clients.
This immigration consultation is only for:
U.S. companies hiring Canadians,
Canadian companies sending employees to the U.S., and
Canadians working in the U.S.
Before ordering the consultation, review this information:
I will call you for the consultation if you are in the U.S. or Canada. If you are outside these countries, ask for a telephone number you can use to call me. (Amazon.com advises me that they only support Amazon.com payments from the following countries: Australia, Belgium, Brazil, Canada, Denmark, Finland, France, Germany, Great Britain, Hong Kong, Iceland, Ireland, Italy, Japan, Republic of Korea, Mexico, Netherlands, New Zealand, Northern Ireland, Norway, Portugal, Scotland, South Africa, Spain, Sweden, Switzerland, the United Kingdom, and the United States --including U.S. protectorates. Contact Amazon.com help with any questions about this.)
I look forward to speaking with you!

Return to the top of this page
Search | Home | FAQ | News | Order Handbook | E-mail
©2000 Law Office of Joseph C. Grasmick
---
Law Office of Joseph C. Grasmick, Business Immigration
Olympic Towers 300 Pearl Street Suite 200
Buffalo, New York 14202 USA
Tel: 716/842-3100 Fax: 416/352-5115 jgrasmick@grasmick.com

This Internet Web page is http://www.grasmick.com/whatsnew.htm