Testimonials

Return to the top of this page
LAW OFFICE OF JOSEPH C. GRASMICK
Business Immigration

OLYMPIC TOWERS
300 PEARL STREET SUITE 200
BUFFALO, NY 14202 USA
TEL: 716.842.3100
FAX: 416.352-5115
jgrasmick@grasmick.com


Dear Readers:

Are you thinking of using a lawyer to help you with your immigration matter?

I include feedback from our clients to help you decide. This is information clients consistently deem most important: cost/benefit, speed, communication and responsiveness.

Even if you do not use our services I suggest using these criteria when selecting legal representation. When I need a lawyer for legal matters concerning my own family these are the things I look for.

This page contains statistical summaries of client questionnaires. It also contains actual quotes from clients. The tables contain data from the last 70 questionnaires received at the time the page was last updated. All clients receive questionnaires when a matter is finished. We often send questionnaires with all invoices.

Most quotes are from written comments on the client questionnaires. All materials are on file in our office.

LAW OFFICE OF JOSEPH C. GRASMICK



Joseph C. Grasmick

Return to the top of this page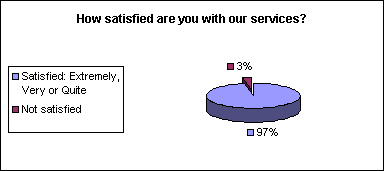 "100% success rate."
-----HR Director, auto parts manufacturer
"Very" satisfied with your services.
-----Chairman, Fortune 500 Company
"I would give your firm, Joe, and Michelle an A+ and I will recommend you to others."
-----HR Director, major safety equipment manufacturer
"Extremely" satisfied with "outstanding service".
-----HR Director, Fortune 500 Company
For more information on what our law firm can do for you see the FAQ-Frequently Asked Questions page.

Return to the top of this page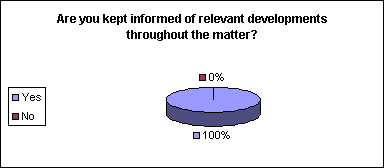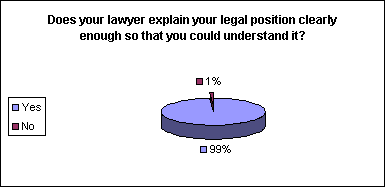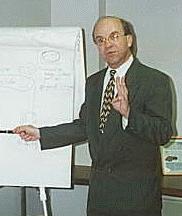 Groundwork: Joe Grasmick prepares client for B-1 border interview.
---
"Every Detail was covered and explained to give rationale."
---Senior Management Consultant, major management consulting firm
". . . took the time to make me feel like the client and not just the company."
-----Sales Manager, automobile parts manufacturer
"Thorough and courteous service."
-----VP and Treasurer, Fortune 500 company

Return to the top of this page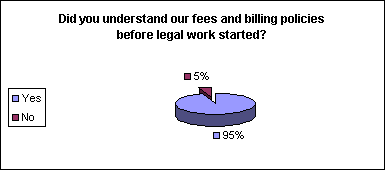 "Obtained desired result, on time, on budget."
-----President, international environmental consulting firm
"The work was thoroughly done with minimum attention from me. Hardly any questions from the immigration dept. Job well done!
-----Manager, Financial Systems, HQ Fortune 500 company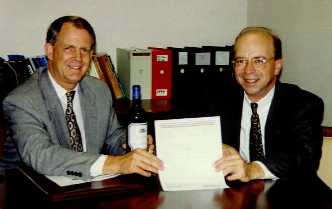 VICTORY:
President of construction equipment manufacturing firm (l) and Joe Grasmick (r) celebrate a hard-earned I-140 approval. This application was for a difficult National Interest Waiver Green Card.
---
"All aspects of yesterday's proceedings went smoothly, thanks to your fine preparation. Unlike most others I was asked virtually no questions---all docs were in order and obviously met all requirements. My final "package" to take to border was the first one prepared. . . I would be happy to recommend your services. . . "
-----President, multi-million industry-supported purchasing organization
For information about costs and benefits of legal services see our FAQ-Business Immigration Legal Fees, Frequently Asked Questions. For a sampling of our clients see our linked list of representative clients.

Return to the top of this page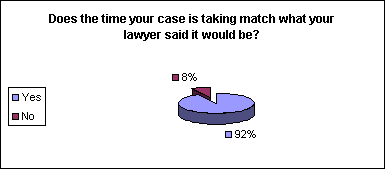 "Expeditious."
-----General Manager, service facility, manufacturer of high end computer components.
"Joe, I would like to take this opportunity to thank you for helping us through the very complicated maze of dealing with the immigration service. You are obviously a professional and your attention to the details kept us on course that made the final interview a breeze."
-----Sales Manager, auto parts manufacturer
"Prompt and timely turnaround."
-----international manager, major Canadian research corporation.
". . .everything is on schedule!"
-----NE U.S. regional manager, mobile/prefabricated homes manufacturer
For more information about expediting immigration matters see our FAQ-Frequently Asked Questions.

Return to the top of this page
"Very professional, courteous and extremely helpful."
-----manufacturing manager, major auto parts manufacturing plant
"Professional, knowledgeable, respond quickly."
-----senior executive, industrial heating equipment company

Return to the top of this page
Search | Home | FAQ | News | Order Handbook | E-mail
©2000 Law Office of Joseph C. Grasmick
---
Law Office of Joseph C. Grasmick, Business Immigration
Olympic Towers 300 Pearl Street Suite 200
Buffalo, New York 14202 USA
Tel: 716/842-3100 Fax: 416/352-5115 jgrasmick@grasmick.com

This Internet Web page is http://www.grasmick.com/yourview.htm