U.S. Social Security Numbers for Canadians-A FAQ to Remove the Mysteries

Return to the top of this page
Answers
1. What is this FAQ all about?
The U.S. Social Security card serves as a national identity document. Canadians will be surprised to find that they will need to recite their social security number frequently. Even their small children will need a number. In fact, your own payroll department will probably be the first to require this number.
This page answers the inevitable questions you will receive from your new Canadian employees. We hope it will make your job easier.

Return to the top of this page
2. I do not have work permission from the INS. I need a Social Security number. Can I get one?
ANSWER: Yes.
The operative word is need.
You can get a non-working Social Security Card when you are required to have one by law.
This means that if you are in the U.S. legally and someone says you "must" have a social security number, ask for proof that you are legally required to have one. You should submit this proof along with your SS-5 Social Security Card Application.
This number is not valid for employment. If you ever use this number for employment, the Social Security Administration can advise the Immigration Service. You must show Social Security a valid reason for this number. Reasons include identification for school or to open bank accounts. You can change the number to a working number when you get work permission from the INS.
In practice, the Social Security Admnistration will seldom, if ever, give out non-working numbers. The SSA's position is that an Individual Taxpayer Identification Number (ITIN) takes care of the needs of any non-working Canadians.
The ITIN is a nine digit number issued by the IRS to people who need a number, but who cannot get a social security number.
Apply for an ITIN using form W-7, Application for IRS Individal Taxpayer Identification Number.

Return to the top of this page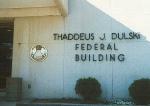 The Federal Building, Buffalo, New York:
We accompany our clients to the 12th floor to get a Social Security Card.
---
Go to a Social Security office with your Green Card or other proof of work permission. This other proof is most often form I-94, Arrival and Departure Record. Also take your birth certificate or passport.
Social Security instructions ask you to appear in person, since "immigration documents should not be mailed". If you do not have work permission, take proof of your legal status with your birth certificate or passport.
(We personally accompany our clients to the Social Security Administration Office as part of our services during L-1, TN, or B-1 border applications.)
Review form SS-5, Application for A Social Security Number Card, before applying. That form has detailed and easy to read instructions. Reviewing the form before appearing in person may prevent an unnecessary trip. Advance preparation will allow you to intelligently discuss your needs with a contact person who may not be familiar with immigration documents.
We supply and fill out these forms for our clients as a service of our office. You can also request the form by telephone from the nearest Social Security office.

Return to the top of this page
4. Social Security will not give me a number. What should I do?
You can appeal the decision, however most denials are caused by misunderstandings. The applicant often does not request the proper type of social security number---working or non-working. Social Security employees sometimes do not understand immigration documents. Further explanation usually resolves the problem.

Return to the top of this page
5. Can I work, now that I have a Social Security Number?
ANSWER: No.
You cannot work legally with just the Social Security card. The Social Security card itself does not give you permission to work. You will need an immigration permit---such as an L-1 or TN---to legally work.
There are even cases where a person may have a working number, but not have employment permission. For example, you can get a social security number by showing temporary work status on your form I-94. This working status eventually expires even though your social security number is valid.
You should be careful to see that you always renew your temporary immigration status. Better yet, apply for permanent status well before your temporary status expires. Permanent status lets you avoid renewals.
Beginning September 1992, if your initial Social Security card is based on temporary immigration work status, your Social Security card will include a special notation. This notation will read "Valid for work only with INS authorization".

Return to the top of this page
6. I received a Social Security card a long time ago. Will this help me get new immigration permission?
ANSWER: No.
Having a Social Security card is irrelevant. It will not help or hurt your case.

Return to the top of this page
7. If I come to the U.S. will I lose all my Canadian social benefits?
ANSWER: No.
The U.S. and Canada have formally agreed to improve Social Security protection for people who work, or have worked, in both countries. According to the Social Security Administration:
The agreement with Canada helps many people who, without the agreement, would not be eligible for monthly retirement, disability, or survivors benefits under the Social Security systems of one or both countries. It also helps people who would otherwise have to pay Social Security taxes to both countries on the same earnings.

The agreement covers Social Security taxes (including the U.S. Medicare portion) and retirement, disability, and survivors insurance benefits. It does not cover benefits under the U.S. Medicare program or the Supplementary Security Income (SSI) program. For Canada, the agreement applies to the Old-Age Security program and the Canada Pension Plan. The understandng with Quebec applies to the Quebec Pension Plan.
It is wise to consult with experts in the field of benefits and compensation on this issue and on other related issues. Our office would be happy to refer your human resource manager to such expertise.
The Social Security Administration provides documents explaining international agreements, including the agreement with Canada. The document discusses highlights of the agreement and explains how you may be affected if you have worked (or will work) in both the U.S. and Canada.
For further information you can also write to:
Social Security Administration
Office of International Policy
Room 1104 West High Rise
6401 Security Boulevard
Baltimore, Maryland 21235
You may also wish to take advantage of possible social security tax benefits through advance planning.

Return to the top of this page
Search | Home | FAQ | News | Order Handbook | E-mail
©1999 Law Office of Joseph C. Grasmick
---
Law Office of Joseph C. Grasmick, Business Immigration
Olympic Towers 300 Pearl Street Suite 200
Buffalo, New York 14202 USA
Tel: 716/842-3100 Fax: 716/842-3105 jgrasmick@grasmick.com

This Internet Web page is http://www.grasmick.com/security.htm