Western New York's First Law Firm on the Web
For Canadian IT Professionals Only-How to Get a U.S. Work Permit
The market for competent IT managers is almost unlimited. ---Windle B. Priem, President and CEO, Korn/Ferry International

Return to the top of this page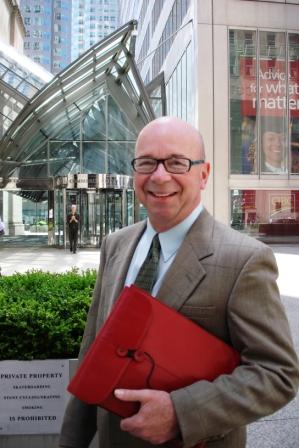 Joe Grasmick making a "house call" to a company in downtown Toronto.
---
On this page I focus only on a group of Canadians---computer professionals. Examples include:
programmers
systems analysts
MIS specialists
network specialists
database systems administrators
computer engineers and engineering technicians
computer contracting organizations
managers
This information allows hiring managers to use Canadians to help meet the tremendous demand for these jobs. It allows job-seekers to present interviewers with specific options.
This page is the preeminent web source for information about IT immigration by Canadians. Nevertheless, make sure to check these resources as well:
Use my Interactive Visa Selector. Make sure you are not missing other options.
Subscribe to my Newsletter for news about how the government currently treats computer specialists.
Review options on the TN NAFTA Home page.
Follow the links on this page (below) for details about specific permits.
See links to specific permits on the contents in the left margin of this page.
If you feel you need my services, this information can help you decide: pages about my office, client opinions and legal fees.


Return to the top of this page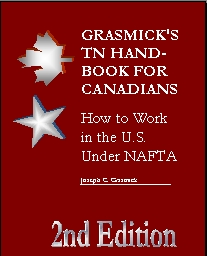 The TN permit for Systems Analysts is the quickest and easiest of the options discussed here.
Note that only Canadian Citizens (not Canadian Landed Immigrants) can get the TN. Acquired at the border, the TN requires:
a bachelor's level degree in computer science, or
a 2-year post-secondary diploma/certificate and three years work experience.
Check the Dictionary of Occupational Titles to make sure the job indeed is that of Systems Analyst. The immigration authorities can deny the application, if the job description is that of a programmer.

Make sure your college diploma or degree is closely related to the job. Put another way, if your diploma does not say "computers", do not go to the border without good legal advice.
Cannot meet these requirements? Are you concerned about the programming component in the proposed job? Have a diploma in something other than computer science -- or no diploma at all? Look at the other categories on this page or consider a consultation with me.

Return to the top of this page
The immigration service does not require a degree, diploma or any license or certification for this category.
For this permit you must:
work in direct support of an engineer, and
possess theoretical knowledge of discipline, and
be able to solve practical problems in discipline, or apply principles of the discipline to basic or applied research.
Your U.S. work should focus on those types of tasks normally done by engineers and engineering technicians. Engineers use computers and engineers take computer courses, so this is feasible. Nevertheless, you should take extra care to show how your duties come close to those duties of an electronics technician as described in the Labor Department's Dictionary of Occupational Titles.
The applications under this category can be a bit tricky. This is because the criteria are not "black and white". Also, an immigration service memo creates some additional requirements you need to review. These requirements include a vague "educational" requirement. Legal counsel can prepare strong documentation proving your eligibility beyond a doubt.

Return to the top of this page
You can get this permit without a bachelor's degree.
Requirements:
baccalaureate degree, or
five years' experience in consulting, or
five years' experience in a field relating to your U.S. job
For this permit, focus on the overall management impact of the services you will provide in the U.S. For example, rather than "writing code for a communications program" you could emphasize "the effect of the U.S. services as they impact on corporate communication required by employer's new management structure". Track the Dictionary of Occupational Titles' description of "Management Analyst" and "Consultant" in the job description. Remember: while making your best presentation, always tell the truth.
This category is one of the trickiest on this page. This is because immigration feels there has been abuse by applicants who use the permit just because "they don't fit anywhere else." You need to provide extensive documentation proving your eligibility.
Even if you are already a TN Management Consultant, review your case again. Renewals are not automatic. Computer specialists often report that they were turned away at the border when trying to renew their permits.
For this reason we suggest using legal counsel for all TN Management Consultant applications. Review the FAQ-Frequently Asked Questions ("Do I Need a Lawyer") for more information concerning the role of an immigration lawyer. We invite you to consider the resources in our office. Read comments from clients to help you decide.
At the very least you should use the TN Handbook for Canadians. The Handbook has an entire section about this category, with strategy charts and sample letters.

Return to the top of this page
The H-1 takes more paperwork and time than a TN application. You cannot get it at the border, and you need to file a petition in advance. This is why we say "if you're Canadian and on an H-1 you're probably on the wrong visa."
Look at this graphic to see if your profession fits within the O-1, TN-1 and/or the H-1B. Use this flowchart to decide between the TN-1 and the H-1B.
The H-1 has its own stringent requirements. Many readers feel that the H-1 is a catchall category for people who do not meet TN requirements. This is not true.
Unlike the TN, there is an annual quota of H-1 applications. The government will not give more than 65,000 per year. In 1997 immigration stopped approving H-1bs when the quota was reached. A de facto lottery exists.
Citizens from anywhere can get an H-1. You do not have to be Canadian. This is a popular choice for Canadian landed immigrants who do not yet qualify for the Canadian citizen TN.

An H-1 need not be on a specified list of professionals, as does a TN.
There are two major requirements for H-1 status:
you must have a at least a specialized bachelor's level degree, or you must have employment experience that gives you experience equivalent to the degree, and
the job you will be working in, requires as a minimum academic prerequisite, this degree. Check the authoritative Occupational Outlook Handbook which lists the academic requirements of jobs.
Immigration has been carefully scrutinizing H-1 applications for computer software specialists. It would be prudent to consult legal counsel for an update before filing your application.

Return to the top of this page
The L-1 is often buried under publicity surrounding the TN. The L-1 offers surprising flexibility to the astute HR professional.
Canadians can get L-1 status instantly at the Port of Entry . No university degree or profession is required. If the U.S. employer has been doing business for at least one year, you can get an initial three years' (renewable) status. The L-1 sets you up for it's permanent green card counterpart---described in the FAQ-Frequently Asked Questions.
Consider the L-1 if:
the employee has been working for a Canadian company for at least one year in the three years prior to your U.S. work, and
the U.S. and Canadian employers are affiliated through common ownership
An immigration lawyer can present documents from both the employer's human resource department and the Canadian employee. Legal counsel can be especially in cases where the applicant does not manage other people in the organization.

Return to the top of this page
There are several quick avenues to permanent residency. These include the National Interest Waiver and the Intracompany Transferee Green Card. The FAQ-Frequently Asked Questions describes both. My Newsletter keeps you up to date.
For information about green cards through the standard individual labor certification, please request our report via email. For a list of advantages of permanent residency over temporary work permits, see the FAQ-Frequently Asked Questions.

Return to the top of this page
If this page does not answer your questions, ask me for a telephone consultation.