Lawyers and Staff Helping You---
People in the Law Office of Joseph C. Grasmick
. . .buyers of legal services are searching for increasingly specific expertise. The god of service buyers is Value, whose handmaiden is Efficiency. . .efficiency is linked to specialization -- a likely predictor of value. --Burkey Belser, American Bar Association Law Practice Today.

Return to the top of this page
We know you have a choice in selecting your legal representation.
We are pleased you have considered our firm.
This report provides information you may find useful. It describes the unique people and qualities of our office. We invite you to use this information to evaluate the fit between our services and your needs.

Return to the top of this page

Joseph C. Grasmick
---
Joseph Grasmick is owner of the firm. He has practiced almost entirely in immigration law for over fifteen years.
Mr. Grasmick is an honors graduate and past Senior Law Review Editor at the University at Buffalo School of Law. He also received his Bachelor's degree in Political Science and a Master's Degree in Anthropology.
Mr. Grasmick has a coveted "AV" rating awarded by Martindale-Hubbel. This is the highest rating a lawyer can receive.
The "A" rating is for legal ability. This category is "Very High to Preeminent". According to Martindale-Hubbel:
The Legal Ability Rating takes into consideration the standard of ability for the area where the lawyer practices, the attorney's expertise, nature of practice and qualifications relevant to the profession. Where a lawyer's practice is limited or specialized, rating opinions are made on the basis of performance in those specific fields of law.
The "V" rating is for ethical standards. This category is "Very High":
General Ethical Standards Ratings cover adherence to professional standards of conduct and ethics, reliability, diligence and other criteria relevant to the discharge of professional responsibilities.
Martindale-Hubbell pioneered the concept of ratings of individual lawyers over a century ago. Ratings result from extensive confidential opinions from members of the Bar, including those who have ratings and those who do not. In addition, members of the Judiciary are queried.
Try our "client testimonials" page:
Mr. Grasmick's international experience includes the Peace Corps and an internship with the International Labor Organization. Mr. Grasmick was a Fulbright Research Scholar. He also was a research fellow with the Organization of American states, the Ford Foundation and the Inter-American Foundation. He has lived and worked in Latin America, Asia, and Europe for over five years, (including living amongst forest - dwelling Indians in South America.)
Mr. Grasmick has participated in Mexican, English, and Swiss programs in advanced legal studies.
As a founding member of the Upstate New York American Immigration Lawyers' Association (AILA), he serves as past business committee Chairman and FTA committee Chairperson. He is a member of other national, state and local legal associations.

Mr. Grasmick frequently lectures, and writes numerous articles and books about, the sociological and technical aspects of the law. He is the author of the "Canada-U.S. Business Immigration Handbook" published by Carswell Thomson Professional Publishing ---the leading law book publisher in Canada. He is fluent in Spanish and Guaraní and feels he is an "accomplished high altitude mountaineer."

Sarah Debusscher
---
We are pleased to have Sarah Debusscher in our office. Sarah is an intern from the Antwerp Business School in Belgium.
Sarah is a licentiate in economics. Her specialty is international relations, finance and IT management.
While in our office she will be comparing business immigration in NAFTA with that of the EEC. she will also be observing our "paperless" Internet-based law office.
Gerald P. Seipp
---
Gerald P. Seipp graduated from the University of Michigan School of Law in 1972 and was admitted to the New York bar in 1973. Professor Seipp teaches the immigration law course at the University at Buffalo Law School. He is considered a national authority on vehicle forfeitures and immigration waivers. Gerry has authored numerous articles and presented at national and local conferences, including the AILA conference in Philadelphia [1987], New Orleans [1992], and Toronto [1993]. His most recent publishing contribution is a chapter in AILA INS Forms, Third Edition on waivers of grounds of excludability. Mr. Seipp serves as Secretary of the Upstate New York chapter of AILA.
Gerry Seipp is a partner in the law firm of Serotte Reich Seipp and Kenmore. He functions as key contact for the strategic alliance between our respective firms.

Anne F. Downey
---
Another key ally---Anne F. Downey--- is a seasoned corporate lawyer. She has years of experience working with the Federal government as a member of the Intellectual Property Group at a large Buffalo law firm. Ms. Downey graduated Summa Cum Laude from the O.W. Coburn School of Law at Oral Roberts University in 1985. She is a frequent author and speaker on business law topics.

Joshua C. Grasmick
---
Many of you have spoken with Joshua C. Grasmick on the telephone. Joshua is a student intern with responsibility for telephone backup, filing and computer systems.
Joshua is currently studying the feasibility of initiating real time "chat" capabilities on our Website. He also contributes graphics to our Website.
Our firm uses strategic alliances with leading immigration practitioners. This allows us to expand our expertise, while keeping down legal fees and overhead.
Here we feature one such firm---the law firm of Serotte, Reich, Seipp and Kenmore:
Why did we choose the firm of Serotte, Reich and Seipp?
William Z. Reich, current Senior Partner, began that immigration law practice in 1976. Since then their firm has become a full-service U.S. immigration and naturalization law firm. With six attorneys focusing in the various areas of immigration law, the firm is one of the largest and strongest immigration law firms in America. Serotte, Reich, Seipp & Kenmore has offices in Buffalo and Rochester New York and in Toronto, Ontario, Canada, and maintains affiliations in the Middle East, Israel, India, Asia, South Africa and Australia. The firm is able to meet the requirements of companies, individuals, and refugees, in business and free trade applications, border problems, and in federal and administrative court practice. The six attorneys possess a wide range of expertise and enjoy a national reputation in United States immigration law.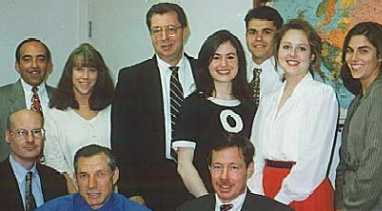 Serotte, Reich, Seipp & Kenmore---Our Strategic Allies
---

Return to the top of this page
The firm has concentrated in immigration law for over 15 years. Arthur Gellman, former professor of immigration law at the UB law school, founded the firm in the late 1970's. Arthur had practiced law in London, England. After moving to the U.S., his previous clients who had successfully immigrated to the U.S. "sought him out". He unexpectedly had a full time growing immigration law practice in Niagara Falls, NY. Joseph C. Grasmick joined Mr. Gellman at that time. The clients were predominantly Indian business owners who had successful businesses through out the U.S. Kenneth A. Cohen, an assistant US attorney, subsequently joined.
"The role of the lawyer is to help your client do business---not find roadblocks."
While Arthur no longer practices law, his tradition continues: "the role of the lawyer is to help your client do business - not find roadblocks".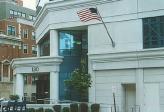 INS Building, Buffalo NY:
A short walk from our office.
---
During the 1980's the firm's border location drew many Canadian businesses and professionals. Joseph Grasmick decided to focus only on the needs of these clients. He implemented a business plan to develop expertise in serving Canadian professionals.
In 1993, growth stimulated by the Canada-U.S. FTA required expansion and reorganization. The firm moved to Buffalo to perform legal work efficiently and quickly. A 97% client satisfaction rate resulted.

Return to the top of this page
We stick to our knitting. A concentration in business and professional visas. Full-time immigration law specialization.

Our policy: we should anticipate your need for telephone calls---we should be calling you, not you us.

Speed. An emphasis on timing and speed to facilitate business timetables. Small office size allows quick action.
Paperless. First Western N.Y. law firm on the World Wide Web. All legal research done by CD-ROM and on-line sources.
For Canadians. Serving a Canadian business clientele---specializing in Canada-U.S. Free Trade immigration opportunities.
Options. Select from various immigration options based on experience in each. Select options which minimize paperwork while fulfilling client goals.
Putting the deal together. Emphasis in the "people" aspect of the cross border employment transaction.


The Federal Building, Buffalo, New York: We accompany our clients to the 12th floor to get a Social Security Card.

---

Location. Optimum office location on the Canada-U.S. border. Located near Southern Ontario businesses and major ports of entry. We are walking distance from the INS and Federal buildings.
Accessibility. Clients have full accessibility to an attorney's home telephone number for emergent needs. Our policy: we should anticipate your need for telephone calls---we should be calling you, not you us. Nevertheless, in the event you need to call, our goal is to answer all calls within 24 hours. (97% of our clients say we do!)

Return to the top of this page
Search | Home | FAQ | News | Order Handbook | E-mail
©2007 Law Office of Joseph C. Grasmick
---
Law Office of Joseph C. Grasmick, Business Immigration
300 International Drive
Williamsville, NY 14221
Tel: 716/842-3100 Fax: jgrasmick@grasmick.com

This Internet Web page is http://www.grasmick.com/knowus.htm